There is a $9.99 annual membership fee which helps to cover the cost of maintaining an up-to-date background check on file with Coachup. 
Once your application has been approved, you will have the ability to set your pricing. You determine how much you charge your clients for single session and multi-session packages.
CoachUp's pay scale rewards coaches for promoting a long-term commitment to personalized training with clients on the CoachUp platform. Earnings are calculated based on how many sessions you've coached with an athlete; the more times you train an athlete, the more you'll earn. Since you set your session rates, you are always in control of how much you earn. Keep in mind, we charge a $17.99 Placement fee to the client when they book their first package with you. This fee is a one-time fee and won't be charged if they book additional sessions with you.

Earnings for session 1: 57% of your rate
Earnings for session 2: 72% of your rate
Earnings for session 3: 82% of your rate
Earnings for session 4: 87% of your rate
Earnings for sessions 5 and more: 94% of your rate
---
Here's an example of what your earnings per session with each client would be if you charged $30 per session: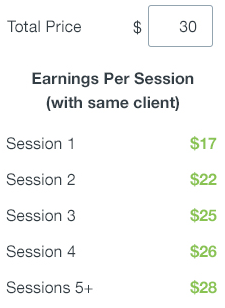 The Premium Membership of $19.99 a month is no longer available to new coaches, but for any existing coaches still in the Premium Membership, you can opt out of this membership from the "Account" tab of your CoachUp account.