You can create an event - such as a camp, clinic, class, or small group training session - to train multiple athletes at the same time. You can also share an event sign-up link via email or on social media. 
---
To set up an event, visit the "Events" tab in your CoachUp account. On your calendar, visit the day you'd like to schedule your event for, and click the "Schedule Event For This Day" button.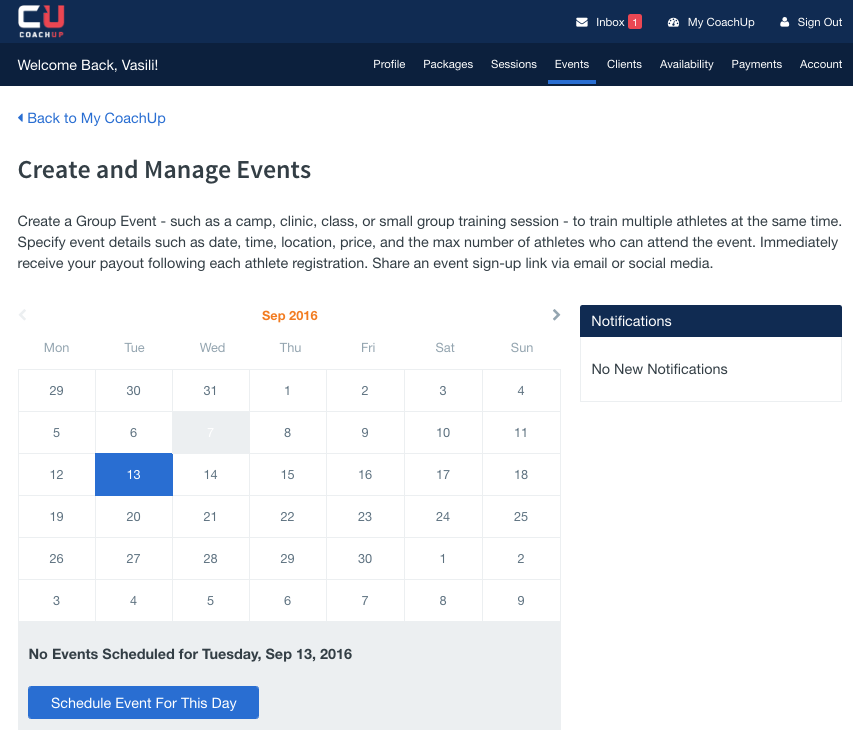 When creating your event, provide details on the following:
The name of the event

Whether the event is in-person or online

The location of the event (be sure to set an exact address)

The date and time the event will begin

Whether the event should be public or private

If the event is public it will appear to athletes in the CoachUp search results
If the event is private it will be hidden from the search results, and only athletes you send your event link to will be able to register for it

The max number of athletes who can attend the event

The event registration fee (keep in mind, in addition to the rate you charge, there is a one-time CoachUp placement fee of $3.99 that new clients are charged if it is their first time working with you).

The event description (remember to include your refund policy, instructions for where athletes should go, an itinerary if necessary, etc.)

Instructions for athletes attending the event (if you need them to send you their t-shirt size or if you need them to send you any additional information after they register).

Once you've created your event, athletes will be able to register for it. If you've made your event public, athletes searching for events in your area will be able to see it in the CoachUp search results. If you've made the event private, only athletes who you share your event link with will be able to register.
Pro tip: Be sure to check out our article on getting more athletes to register for your event.
As athletes register for your event, we'll send you notifications to alert you. You can then message those athletes individually, or you can message all registered athletes at once.
Need to make changes to your event? If you edit your event details, we'll send an email notification to the registered athletes to notify them of the changes.