We will display your public events on your profile page and in your sport's search results, but there are also a few things you should do to be proactive about getting more clients to register for your event.
---
Your first step should be inviting clients who've contacted you through CoachUp in the past. You can invite clients through your CoachUp inbox by either inviting one client at a time or by inviting many clients at once.
Inviting a client to an event
In your inbox, open a message with one of your clients and select the option to "Invite to a clinic."

You'll be able to send an invitation to your event to your client and customize a message.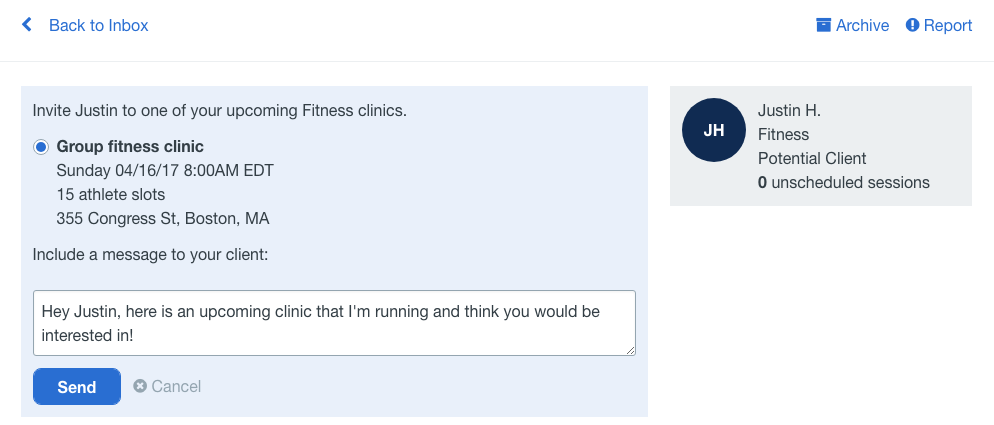 Inviting many clients to an event at once
We'd recommend using the "mass messaging" feature available in the iOS and Android apps.
With the mass messaging feature, you can select as many of your clients or potential clients as you like, and send them a link to your event registration page. If you only have a limited number of registration slots available, be sure to let your clients know that you will be accepting registrations on a first come, first serve basis.
You can find the url to your event in the "Events" tab of your CoachUp account. Just navigate to the date on your calendar that your event is scheduled for, click on your event, and look for the "Invite Athletes: Copy the Link Below to Share" section. That's the link you'll want to share with your clients.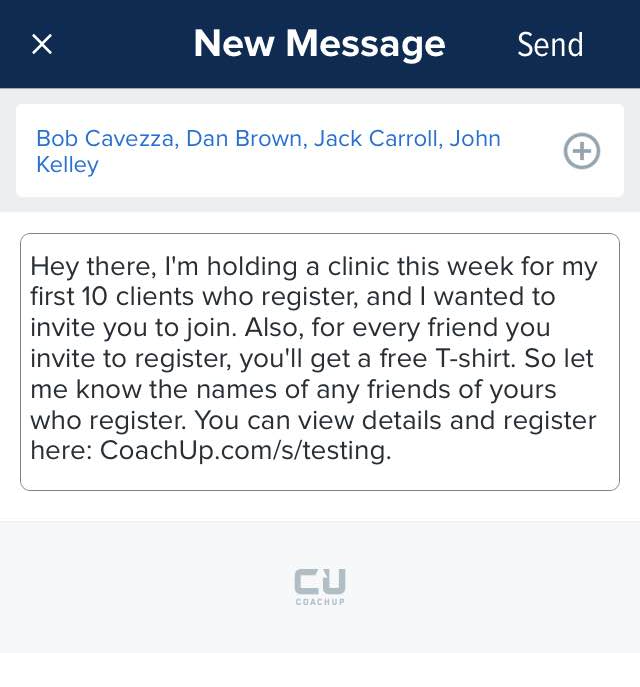 ---
You should also share the link to your event with your non-CoachUp clients via email, text, and social media. The more places you share it, the more quickly you'll fill up the available registration slots.
---
We've also seen coaches have success by offering things like free t-shirts, gear, or training sessions to clients who register for the event and also invite additional friends/family to register as well. Remember that your clients' word of mouth is an effective marketing tool, so encourage your clients to have their friends register!