All CoachUp coaches are currently grouped into one of three Coach Tiers: Gold, Silver, or Bronze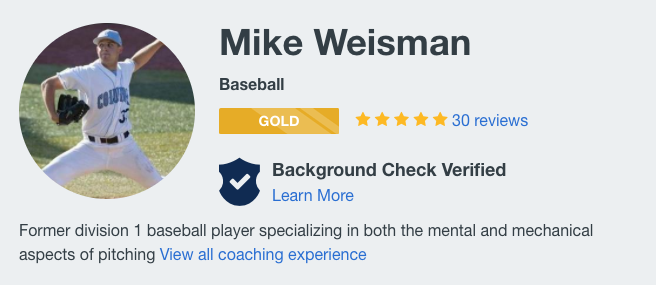 Coaches in the Gold Tier will enjoy the following benefits:
Expedited payouts - expect payouts in 2 business days
No messaging restrictions - exchange contact information with a potential athlete prior to a session being booked
Social Media links - Link to your Facebook, Twitter, Instagram or Linkedin account right from your CoachUp Profile
Ability to list a specific training facility or location as additional insured as part of CoachUp's insurance policy
Which Coach Tier will I be in?
To determine a coach's Coach Tier, coaches will be rated on the following five metrics on a 1-4 scale.
Review Rating Average
Responsiveness Score
Lifetime Conversion Rate
Client Loyalty Rate
Recent Session Count
Coaches will be assigned a Coach Tier based on the total amount of points earned. 
| | |
| --- | --- |
| Tier | Points |
| | 20 |
| | 14-19 |
| | 5-13 |
How can I learn more about the five metrics that determine my Coach Tier?
For a detailed explanation of the five metrics that determine your Coach Tier placement, please click here.
Can my Coach Tier change over time?
Yes, your Coach Tier will be recalculated every 2 weeks on the 1st and 15th of each month.
Does my Coach Tier affect my earnings?
No. All coaches operate under the same schedule of fees no matter which Coach Tier they are in. You can see the full breakdown of fees and earnings here.
Will my Coach Tier determine where I appear in CoachUp's search results?
Your Coach Tier will not expressly determine where you appear in CoachUp's search results, but some of the same metrics that are used to calculate your Coach Tier are also used to determine where you appear in search results. Because factors like distance and position/expertise are used to determine the order that we display coaches to an athlete that is conducting a Coach Search, it does not mean that a coach belonging to a higher tier will always be listed ahead of a coach in a different tier.
Why is CoachUp changing the Coach Tiers? 
We are evolving constantly to meet our three goals: to provide a superior experience for our clients, to be an unmatched professional resource for our coaches, and to maintain our status as the nation's leader in private coaching. The updated version of the Coach Tiers provides coaches with 5 clear metrics which can be used as a guide to attaining status as a top-class CoachUp Coach. In addition to being recognized as a Gold Tier coach, a top performing coach will also have access to several of the features that were previously only available to coaches who paid for the Premium membership including faster payouts and restriction-free messaging with potential athletes.